Innovation – regionally funded
"Tradition and innovation are important pillars of global competition!"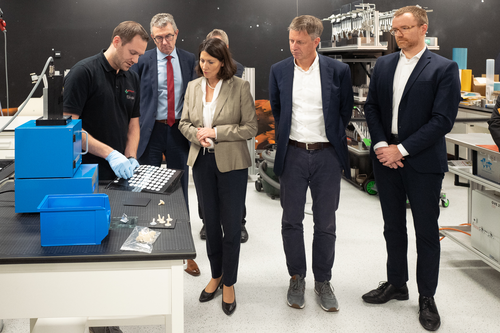 Daniela Schmitt, State Secretary of the Rhineland-Palatinate Ministry of Economics, Transport, Agriculture and Viticulture, awarded the funding agreement for Lohmann's second approved funding project to CEO Dr. Jörg Pohlman on November 11.
For the formal handover in the TEC-Center Neuwied, not only media representatives but Ulrich Dexheimer, Speaker of the Supervisory Board of the Investment and Structure Bank Rhineland-Palatinate as well as Dirk Rosar, Department of Fundamental Questions of Innovation and Cluster Policy, Innovation Funding, were present. The stated objective of the Ministry of Economics is to strengthen the dialogue with local companies. Especially with those that are perceived to be driven by innovation – such as Lohmann.
The adhesive tape manufacturer from Neuwied has been providing various industries worldwide with customized bonding solutions for more than 167 years. For this, the Bonding Engineers prove, time and again, their pioneering spirit investing time and resources in research and development. Recently, for example, Lohmann's UV-LUX technology launched: the world's first UV-light acitvatable adhesive tape solution with color change.
This innovation is now the basis for further research activities within the current funding project. Its aim: the development of solvent-free structural bonding based on epoxides which protect resources and the environment. Cornelia Sundrum, one of UV-LUX's developers, introduced the project to the guests, before it was time for a little plant tour: to the High Performance Coating Line and into the Bonding Arena®. Established 2016, this 300m² application laboratory is equipped with state-of-the-art technology and room for product development and design.
There, Dr.-Ing. Johannes Stahl, Application Engineering, was already expecting them to demonstrate the UV-LUX technology – focusing especially on another of its key advantages: the color change.
You want to learn more about UV-LUX? This way, please: https://www.uv-lux.de/en