Golden rain at the FlexoTech Awards 2019: complete success for the customers of Lohmann's FLEXperts
London, The Royal Lancaster, October 16. Dress code: "Black Tie".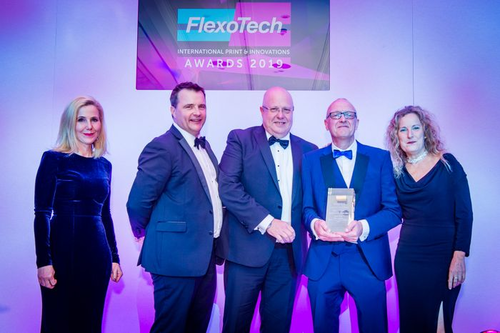 It was time for the annual FlexoTech International Print & Innovations Awards – and the flexo printing industry met up for a festive gala. The award show of the renowned Flexo Tech Magazine has been honoring flexo printers and their suppliers in various categories for years now, e.g. in the categories label printing or UV-flexo printing.
As silver sponsor, Lohmann has been supplying the flexo industry with plate mounting tapes from the DuploFLEX® range for many years now and has thus been essential for optimal print results. The double-sided adhesive and compressible PE foam tapes allow for easy handling and simple (de-)mounting within the printing process.
As in the previous year, most of the nominees were Lohmann customers. And the result is impressive: It rained gold, three times.
Silvia Casellato, Senior Market Manager Lohmann, presented an award herself and is proud of the huge success of both the FLEXperts and their customers: "Each year, we meet our partners and customers of the flexo printing industry at the large FlexoTech Award Gala and celebrate our joint successes. Each nomination is a great honor – and the gold medals are the highlights of the evening!"
You want to learn more about the FLEXperts and Lohmann's bonding solutions for the flexo printing industy? This way please: https://flexperts.lohmann-tapes.com
Picture©Whitmar Publications Limited