UV-LUX: the success story continues @Automotive Glazing Europe 2019
At the end of October, our Bonding Engineers Cornelia Sundrum (New Business Development), Nicole Ehrmann (Market Manager Transportation) and Dr.-Ing. Johannes Stahl (Application Engineering) attended this year's Automotive Glazing Europe in Düsseldorf as exhibitors and partners.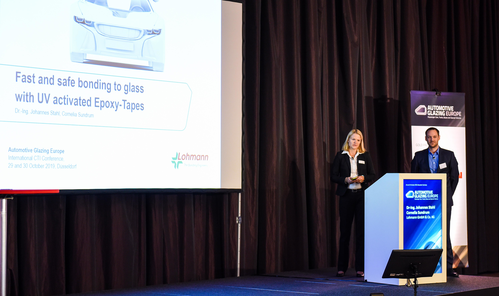 Up their sleeve they had Lohmann's latest innovation: the UV-LUX technology.
The world's first UV-light activatable adhesive tape solution with color change was introduced to a top-notch niche audience for the first time at this exhibition – and was met with lively interest. To representatives of research and development, suppliers and OEM's for automotive glazing, one of the first applications of this new technology was presented: pin-bonding (fixing of plastic components to glass modules), fully developed in cooperation with industry partner NSG/Pilkington.
Especially in the automotive industry, bonds are held to a high standard. Relative movements, for example such of VSG and ESG glass modules, which were pre-fixed, mustn't be allowed. Here, the color change of UV-LUX provides safety: The timing of both the activation as well as the curing is color-coded clearly. Due to the open time, processes can be adjusted flexibly. More background on this and further information were provided by the Bonding Engineers in their presentation "Fast and safe bonding to glass with UV activated Epoxy-Tapes".
At the booth, visitors could not only witness the UV-LUX color change but immediately start a conversation with Lohmann's bonding experts. This led to many specific projects – the entire target group for similar applications had a positive response to the UV-LUX technology.
"After these two days at the Automotive Glazing we are very satisfied", says Cornelia Sundrum. "For a multiplication of the pin-bonding application, the first tests are already running on different components of potential customers, kick-off meetings for new projects are scheduled for the next few weeks."
You want to learn more about UV-LUX? Visit our official website via https://www.uv-lux.de/en