Lohmann: From the roof to the floor – new products for the construction industry
At BAU 2019, which will take place in Munich from January 14-19, Lohmann will present their new products in Hall A1, booth 234.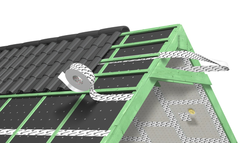 The main focus will be on topics such as roofing, static direct glazing and flooring.
Lohmann offers various one- and double-sided bonding solutions for every single craft. The new vapor barrier tape from the DuploCOLL® range is called "All in one". It is an adhesive tape for bonding overlaps and penetrations at interior and exterior areas.
Combining a new adhesive with a flexible carrier system results in a product universally applicable to air- and watertight bonding of common underlays and vapor barriers.
Following the slogan: "Now is the time to think about tomorrow", the focus is always on the durability of the bonding solution. This is the reason why the audit following DIN4108-11is a Lohmann standard. The new "All in one" tape meets the highest emission requirements and bears the Emicode label.
The system components of dry bonding of flooring are also low in emissions. Here, our Bonding Engineers, too, offer a wide range of modern adhesive bonding solutions. Quick and clean bonding, residue-free removal later: Just change the flooring or apply it on top of exiting floor coverings, it will be passable immediately. Footfall sound optimization and permanent bonding are both requirements that are met by Lohmann's solutions as well.
Customers' safety is always paramount for Lohmann. An example for that is a new development in window bonding. For the first time, a wood / aluminum window can be made RC3 standard tamper-proof by applying just one tape on coated wooden surfaces. In a joint effort with reputable paint manufacturers, Lohmann intends to offer an IFT certified system.
No matter if a standard or a specialized solution is required, we listen closely to our customers' demands. You want more information? Please meet us at BAU 2019 in Munich or visit our microsite www.architecture-bonidng.com.